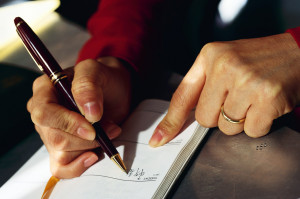 It is inevitable that as coaches we will, from time to time, work with clients who share some of our own characteristics or who may be facing situations that we have faced in the past or are currently facing. Having recognised that you experience some of the issues your client faces is the first step. Without recognition nothing helpful can then follow. Once you recognise the similarities you can then work through a number of aspects before you decide whether you are the best coach for your client or whether you need to refer your client on to another coach.
This is the type of issue you need to take to your coaching supervisor so that you can work through the implications associated with this type of situation. For example, identifying with a client does not automatically count you out as his coach. There are many occasions where an individual can separate their own material from that of the client. After all think about the saying "don't do as I do, do as I say do" or where you have helped a friend even though you might identify with them. Sometimes the fact that we have encountered the same situation can give greater insight into the client's feelings and challenges and can therefore be useful. However, over empathizing with a client can lead to the coach not challenging appropriately or effectively and can lead to collusion, which would not be in the best interests of the client.
One of the strategies is to ensure you check in regularly with your client. If he is changing his behaviour to that which is more rewarding and helpful then you are doing your job. You may find it helpful, in addition to asking the client at the end of the session as to what value he has gained and what he will be doing differently, to send a session reflection document to complete and return to you prior to his next session.
This could contain questions such as, "What learning or insights resulted from our last session?" What assignments have you agreed to undertake before our next session?", "Are there any ideas/questions you have found yourself thinking about arising from our last session?", "Was there anything you felt we did not cover in our last session that you would have liked to have been addressed?" "Was there anything I said or did during our last session that made an impact on you?", "Was there anything I did that you particularly liked or found useful during our last session?", "Was there anything you were not comfortable about regarding my approach that you would like to me do differently next time?" and "What will you be doing differently following on from our last session?"
Checking in with his manager at mid-point during the coaching process is another way you can ensure changes are being noticed by others.
Another way is to write down your client's feelings, situations and the challenges he faces and then write down your own and compare these. Look at his and yours and look for the differences and what you have done or are doing to address your own issues. This can be one way to see how you and he differ and just how closely your issues match. It is likely you will see differences and these differences help you maintain objectivity as you may be similar but not the same.
In rare cases when you have explored all the options you may discover that you cannot work with a client. This is where coaching supervision helps you deal appropriately with a referral to another coach. However, it is more likely that you will find that talking these issues through will enable you to continue to be a good coach to your client.
One of the perks of working through situations such as this is that we as coaches learn as much from our client's as they do from us.