For Executive Coaches, Life Coaches and Coaches in the Workplace…..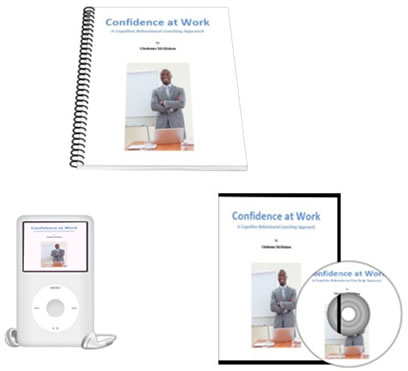 Confidence is one of those concepts that everyone instinctively understands, but if you ask people to define it, you get a variety of answers. We all intuitively know that confidence matters and that a lack of it impedes professional effectiveness and career progression as well as personal well-being and satisfaction.
Back in 2002, I was one of the original developers of a coaching model that helps individuals get the best from everyday life. In addition, I have integrated aspects from the field of Positive Psychology, which aims to increase an individual's basic appreciation of life, well-being and general happiness.
Cognitive Behavioural Coaching is a model that works for coaching clients in everyday situations.
The current corporate training and individual confidence at work programmes, which include strategies from Positive Psychology, Emotional Intelligence and Mindfulness Based Cognitive Coaching, all originate firmly from the realm of psychology. The four areas that these programmes cover are: Impact, Thoughts, Feelings and Action
While there are many excellent books about the CBC approach, none of them focus directly on coaching confidence issues in the workplace.
I wanted coaches to have a 'quick reference' guide and have produced the "Confidence at Work" Program.  It is presented in two parts:
1.  A PowerPoint presentation (with a full hour-long audio presentation as MP3 download)
2.  A Companion E-Book detailing how the confidence at work programmes work (with 2 full case studies and references for further reading)
Here's what you'll learn in the 'Confidence at Work' Program
An introduction to the basics of Cognitive Behavioural Coaching and  how this approach can be used with coaching clients in dealing with confidence issues.
Skills that can be used both in a work setting and the Personal/Life Coaching arena.
A basic framework for each part of a corporate training & coaching programme.
All the details you need to implement your own 'Confidence at Work' programme.
An overview of some of the main skills associated with Cognitive Behavioural Coaching to broaden your understanding and knowledge
An extensive range of exercises covering physical impact, thoughts, feelings and actions
Confidence at Work – This easy to follow, yet powerful information, is presented as 2 separate PDF files (zipped together for convenience) at the very affordable price of £14.97 + VAT.  Click the 'Buy Now' Button below and get your copy now.

If you're an Executive Coach, or Coach in the workplace, the Confidence at Work Presentation and E-Book will quickly become an invaluable resource and reference guide.
"I have had the opportunity to use some of your brilliant confidence coaching techniques with one of my coaching clients to great effect recently. After three sessions together where we worked through some of the workbook activities, she has already reported that she is feeling much better about handling certain "challenging conversations" that were very daunting for her before. It is really good to see the impact that even a few probing activities can have on boosting someone's confidence and performance. Thank you so much for sharing your tried and tested wisdoms and practical exercises, they're great."
Once you place your order, you'll be directed to a confirmation page.  The link to the download page will follow shortly afterward by email so you can start reading and listening immediately (no waiting around for shipping)
Best wishes



Gladeana McMahon
PS. Please note this is a virtual product and the image is for illustration purposes only.