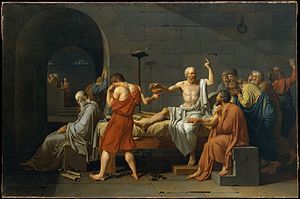 CBC (Cognitive Behavioural Coaching) does not give individuals answers to their difficulties but rather, through a collaborative process called 'guided discovery', assists them to devise their own conclusions and solutions. Guided discovery is based on 'socratic questioning' whereby the coach asks a series of questions that enables the individual to become aware of the way he or she is thinking.The term derives from the method of philosophical enquiry originally developed by the ancient Greek philosopher Socrates.
The practice involves asking a series of questions surrounding a central issue to help the individual identify his or her ideas on the subject being explored. Questions such as, 'What do you mean by your difficulties relating to others?' or 'How does your relationship with your peers relate to your anxiety?' are good examples. Socratic questioning promotes insight, allowing a more rational decision- making process to take place. It can move an individual from his or her limiting style of thinking to a more flexible system of identifying problem-solving strategies.
CBC is time-limited, solution-focused and based in the present. Historical material is only sought to elicit information about why and how past events have shaped the individual's way of thinking and behaving. Coaching aims to assist individuals to achieve goals. It does so by taking into account the need for self- awareness of moods and emotions and, in this sense, assists people to become moreemotionally intelligent by understanding one's own emotions, motivations and ways of being, as well as those of others.
CBC is 'psycho-educative' – its goal is to help the individual develop the necessary skills to become their own coach in the future. As the client becomes aware of their own thinking style, its strengths and limitations, and alternative ways of thinking and behaving, they become more flexible. By using this newly acquired knowledge, the individual develops more effective ways of dealing with challenges and goal attainment.
The number and length of sessions depends on the individual's circumstances. For example, a programme of six, 90-minute sessions could be delivered as one session a week or fortnight for three sessions and then one session a month for the remaining three. Alternatively, it may be more helpful to engage in one three-hour session in order to break the back of a particular issue, following this session with shorter sessions on a less regular basis.